If you lost the password to unprotect Sheet(s) of your Excel files, you no longer need to worry! The XLSheetUnlocker is there to help you out. This small tool can remove the Sheet protection from any Excel file in seconds (Excel versions: 97-2003, 2007 and 2010).
Downloaded: 13 600x File size: 112,3 Ko
The functioning of this tool is really simple:
Open the Workbook that contains the Sheet(s) to unprotect
Open the XLSheetUnlocker
In the two lists that appear on the screen, chose the Workbook and the Sheet(s) to unprotect
Click on "Unlock the Selection"
DONE… Don't forget to save the unprotected Workbook
If you open another Workbook to treat once the XLSheetUnlocker is open, you have to click on the button "Refresh the list of available (open) Workbooks" to make him appear on the list of available Workbooks…
Here is the user interface ot the tool: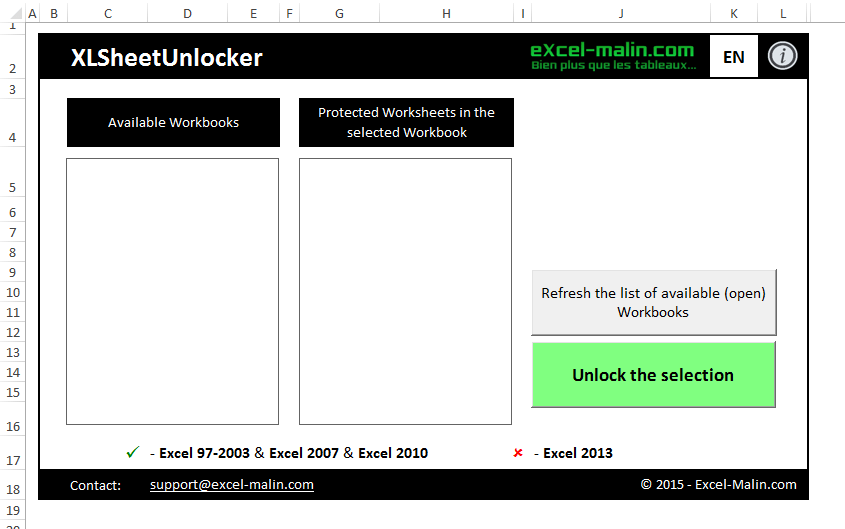 We know it all: it is quite easy to lose a password. And then, big troubles can start… As it can happen to everyone to forget a password, a small tool may be helpful. I developed it because I've also forgot the password of one Workbook that I absolutely had to change – and then I thought such a tool might help other Excel users. So here it is.
For now, the tool is available in English and French. The Spanish and Dutch versions are being prepared. Do not hesitate to share it!
Downloaded: 13 600x File size: 112,3 Ko
Trial version
The Trial version on XLSheetUnlocker allows you to unprotect 3 Sheets. Thus, you can ensure that the tool is working properly… And it gives you the possibility to quickly solve some urgent cases.
Full version
The Full version of XLSheetUnlocker lets you unlock an unlimited number of Sheets and you can unlock whole Workbooks at once.
Payment is available through an external provider (BMT Micro) and is 100% secure – available payment methods: credit cards, bank transfer, PayPal,…
If you have questions, you can contact us by e-mail.